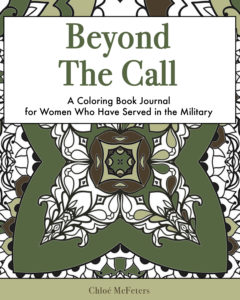 Beyond the Call
A Coloring Book Journal for Women Who Have Served in the Military
By: Chloé McFeters (Author), Mea Williams (Foreword)
Publication Year: 2017
Format: Print (Softcover)
Print ISBN: 9781543195200
List Price: $16.99 
Order Now
---
"Beyond the Call goes above and beyond in its approach toward promoting the meaningful connection between art and self-reflection through a winning combination of mesmerizing mandalas, personal testimonies, powerful affirmations, and insightful writing prompts -- proving itself far more than a coloring book for veterans. Cheers to Chloé McFeters who has forged a much needed creative, healing pathway between the heart and mind."

– Marine Corps veteran Tracy Crow, author of On Point: A Guide to Writing the Military Story
---
Separation from military service can present many opportunities and challenges, whether you were discharged recently or have been out for some time.
Beyond The Call
offers women Veterans a creative outlet for reflecting on those opportunities and challenges in a life-affirming way.
The mandalas and abstract patterns let your mind and senses flow with colors and creative self-discovery. The journal prompts are designed to invite you to write about your experiences and help lead you to acquire a clearer perspective on your military service and your transition to civilian life.
Beyond the Call is a portable resource for women Veterans to explore their thoughts and feelings during and after their transition from military service.
Foreword by Mea Williams
With essays by:
Heather MacArthur
Tana Plescher
Shavonne Broom
Roberta Castaneda
T'Liza Kiel